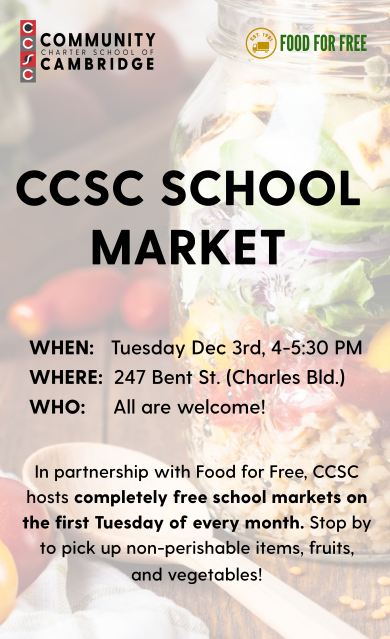 In partnership with Food for Free, CCSC hosts completely free school markets on the first Tuesday of most month.
Additional information
Stop by to pick up non-perishable items, fruits and vegetables! BRING YOUR OWN BAG! There are school markets throughout the month at other public schools in Cambridge, including: Benjamin Banneker, FMA, G&P, K-Lo, MLK, Peabody, and Tobin. Please visit Food for Free's website to learn more.
Location
Virtual
235 Bent
Cambridge, MA 02141
United States
East Cambridge
For whom
Ages Pre-natal to 18 and Adult.
All grades.
Free!
Contact us for more information.
No application or registration needed.
Last updated November 25, 2019.