Safeguard Against Scams: National Consumer Protection Week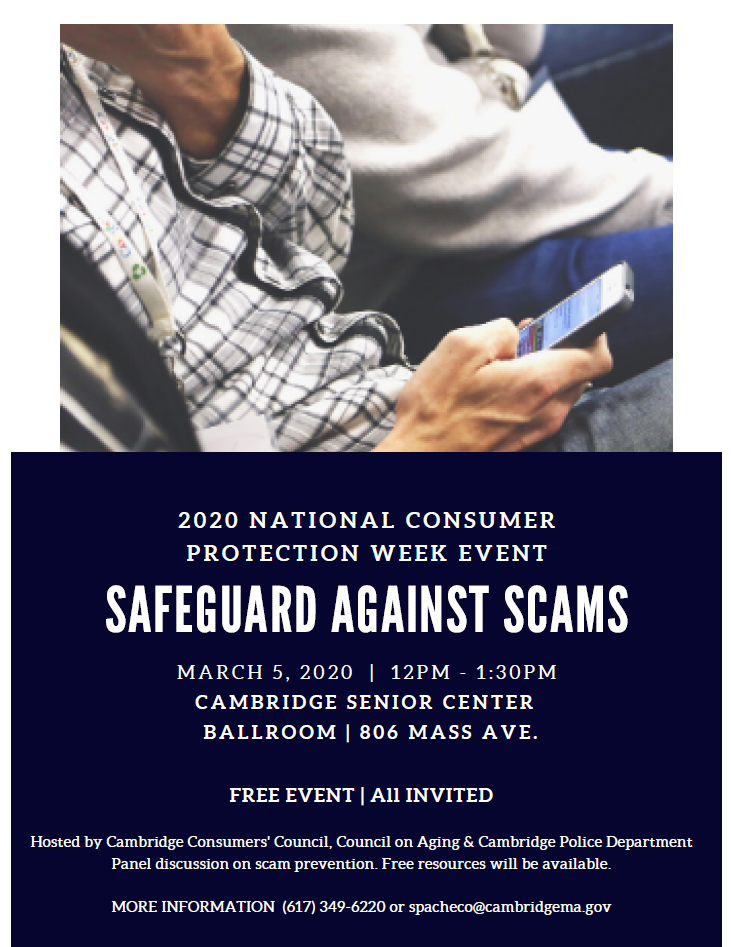 Additional information
This collaborative event will teach people how to prevent and protect against common scams. Topics include:
Phone scams (IRS, Grandparent Scam, Bank Scams)
Victims of Phone scams
In-person Scams (Home repair, Landscaping)
Email & Mailer Scams (UPS, Amazon impostors)
Our panel includes Cambridge Consumers' Council members and a CPD Detective. Resources will be provided through Homeowners Rehab Inc, Department of Telecommunications and Cable, Cambridge Consumers' Council, Cambridge Emergency Communications, and more!
Location
Cambridge Senior Center
806 Massachusetts Ave
Cambridge, MA 02139
United States
Mid Cambridge
No transportation provided.
The event will take place in:
The Ballroom - 1st Floor
Wheelchair accessible
Cambridge Consumers' Council has information available during National Consumer Protection Week as well as any time of the year.
For whom
Ages Young Adult to Senior Adult.
We work in cooperation with the M.A. Attorney General's Office and cover all residents of Cambridge, Arlington, Belmont, Somerville, Waltham, & Watertown.
Free!
Contact us for more information:
Council on Aging: 617-349-6220
Cambridge Consumers' Council: 617-349-6150
No application or registration needed.